NEWS
ANTEPRIMA WIREBAG Fall/Winter 2018-2019 - LUCIANNA Collection
2018.12.04
ANTEPRIMA WIREBAG Fall/Winter 2018-2019 - LUCIANNA Collection

This year, ANTEPRIMA is utterly proud to become Swarovski® Ingredient Branding Partner. Founded in 1895 in Austria, Swarovski® designs, manufactures and markets high-quality crystals and created stones as well as finished products such as jewelry, accessories and lighting.
A first glimpse of the collaboration has been shown at an exclusive event in Hong Kong. On April 25th 2018 Swarovski's Brilliance Redefined exhibition presented stunning pieces in the Hong Kong Maritime Museum, featuring ANTEPRIMA notable yet artistic piece, LUCIANNA embellished with crystals from Swarovski®.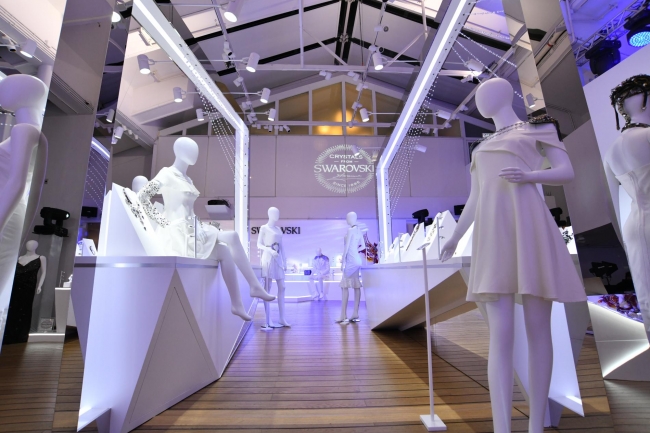 One of the masterpieces has been shining in this special fashion event. Furthermore, the entire collection of LUCIANNA is going to be unveiled in this Fall Winter 2018-2019 Season. LUCIANNA, meaning elegant, shiny and light in Italian, is named after this marvelous jewel. Inspired by concept of "Brilliance Redefined", Creative Director, Izumi Ogino believes the image of an ideal woman has been like a work of art in progress, through any ages and be Intelligent, Confident, Feminine and Joyful. From time to time, it is important to re-look ourselves to whom we wanted to be. This Collection represents your true personality; definitely revealing your sophisticated characteristics.
ANTEPRIMA is strong at craftsmanship – knitting bags & Mosaic bags are our iconic items which are sophisticated yet delicate. One of the stunning piece was exposed in the event, strategically applies bag-in-bag concept which possesses the features of chic yet luxurious, such design concept has also been spotted in the eye-catching trend for this year. For this ground-breaking design, we have created with Fine Rocks Tube Crytals from Swarovski®, beading to form a beautiful see-through check pattern, integrated with our brand's most precious Pure Silver 046 Standard WIREBAG to be inserted within the design.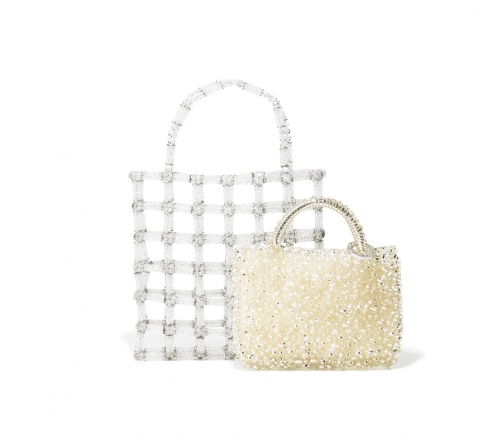 The outer crystal bag size is created in 15.5 x 15.5 x 3 (CM) with a handle length of 21 CM and inner WIREBAG size is in 14 x 10 (CM). The silvery moonlight color of the Fine Rocks Tube matches perfectly with our Pure Silver wire cord. This distinctive WIREBAG is a magical piece that is handcrafted by our experienced and skillful artisans and this style takes up to 22 hours to complete.
Adorned with Swarovski® crystals and integrated with ANTEPRIMA WIREBAG, the LUCIANNA Collection has been designed in two more unique styles in inimitable shapes, bring a touch of sparkling elegance to different occasions through the day. Both styles available in the most exquisite Pure Silver wire colour, PLATINO 999, each style is designed with a distinctive ingenuity. The entire collection is going to be launched in coming November.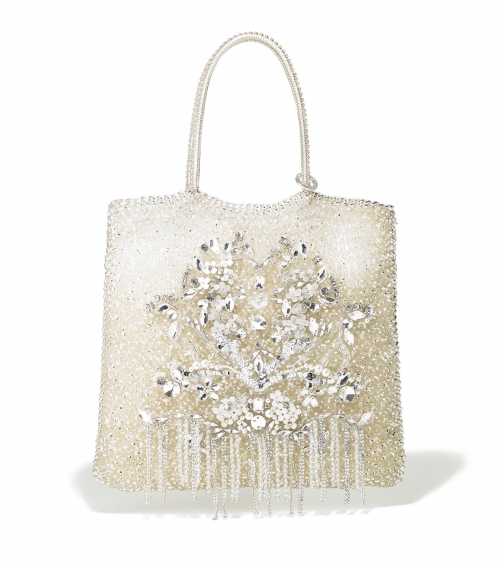 First of all, taking the classic Pure Silver 047 Standard WIREBAG as a foundation, style PB18FFP0V3 is crafted with multi-valuable crystal-like Emerald Cut Sew-on stone, Trilliant Sew-on stone, Round Chessboard Sew-on Stone as well as Butterfly Pendant from Swarovski®, mixed together with nappa fiori to form a damasco pattern, these delicate and elegant embellishments have gracefully merged with our wire glitter on the surface.
In addition, adorned with refined crystal trimmings from Swarovski® to make fringe decorated at the bottom part of the motif, the combination of this meticulous pattern and shimmy movement from the crystal chains create the sparkling beauty of the coveted LUCIANNA.
Exclusively crafted with our outstanding technique for WIREBAG, all parts are decorated by hand and it takes up 22 hours to complete, this WIREBAG speaks not only to the aesthetics but to the soul. Needless to say, these splendid WIREBAGs will absolutely be able to enlighten any important evening party or event, letting you shine throughout this season.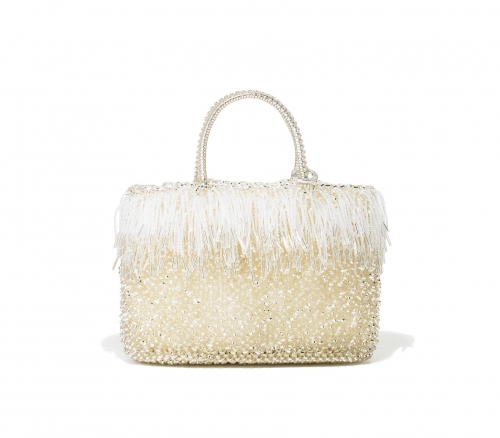 Another style of LUCIANNA is praised for its practicality and gorgeousness, it builds upon on small tote bag and sized in 24 x 15.5 x 7 (CM) in Pure Silver wire color, PLATINO 999. Infuses with a triumph of deluxe and distinctiveness, this delicate piece is designed and embellished with crystal beads from Swarovski® fringe on top of the WIREBAG one by one, these transparent fringes can certainly match well with the Pure Sliver wire color.
By extending this line and to enhance the functionality, this style has added a bottom to enlarge the interior, the structure of this style is voluminous enough for carrying everyday essentials. Equipped with a durable handle, large top opening offers a good access to your belongings, but also retaining the elegance and its unique silhouette.
Furthermore, a refined small leather card pouch is enclosed with the WIREBAG; you can carry your necessities from day to night, office to cocktail parties or even for a weekend getaway. This collection represents a perfect balance of confidence, luxurious and elegance that characterizes the independent modern woman with sense of chic and sophisticated.
As part of this magnificent collaboration, starting on November 2018, ANTEPRIMA will be offering two premium gifts featuring the LUCIANNA Collection in this Fall Winter 2018-2019. We look forward to offer our customers with an opportunity to sparkle this season. Inspired by the gorgeous sparkle craftsmanship and creativity; we are thrilled that the limited-edition ANTEPRIMA Logo Key Ring as well as Lucky Crystal Clover Charm Bracelet embellished with crystals from Swarovski® and will be giving away during the this season!